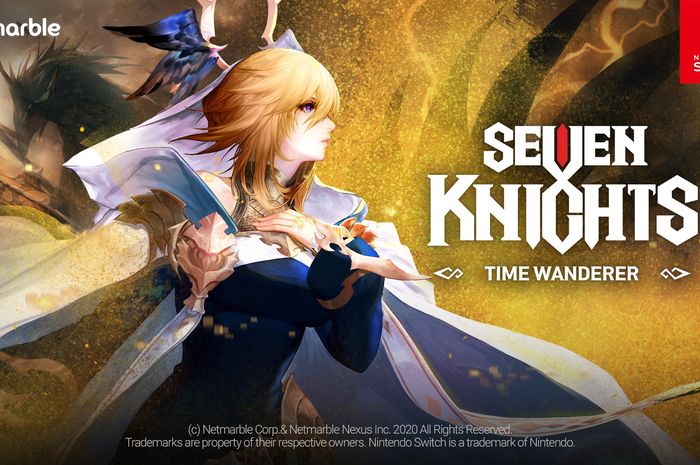 Netmarble
Seven Knights Time Wanderer
GridGames.ID – After being announced last October, the game Seven Knights – Time Wanderer is now available on Nintendo Switch.
You can find the first console game released by Netmarble through the Nintendo eShop in 40 countries.
Seven Knights – Time Wanderer offers a single-player experience in the wider Seven Knights mobile franchise.
As we know, the Seven Knights game itself has previously been released by Netmarble for the mobile platform.
Also Read: Seven Knights – Time Wanderer, Game Made by Netmarble Will Release on Nintendo Switch
"The Seven Knights Franchise has made it to its fifth anniversary and it's really satisfying to see fans responding positively to the game's development. Therefore, we want to give our appreciation by taking Seven Knights in a completely new direction," said Young Jae Park as Executive Producer of Netmarble.
"Seven Knights – Time Wanderer on Nintendo Switch is the perfect introduction to the world of Seven Knights for players who want to experience an epic story with a variety of heroes and intense battles. We can't wait to bring our first console game for fans to enjoy."
Also Read: Not Only Skins, AOV Brings Ultraman Theme to User Interface Tampilan
Adapted from Seven Knights Mobile, Seven Knights – Time Wanderer is a turn-based, real-time RPG with stunning visuals.
Seven Knights – Time Wanderer features a new control and battle system and game content that has been optimized for the Nintendo Switch.
This game, which is a single-player RPG, provides the pleasure of building a deck using various heroes according to the desired strategy.
In addition, this game also introduces an original story that is different from the mobile version.
Also Read: How to Transfer PlayStation 4 Game Data and Files to PlayStation 5
Seven Knights – Time Wanderer focuses on the story of the eighth member of the Seven Knights, Vanessa and her flagship magic tool, the hourglass known as Sandy.
This game tells the story of Vanessa's journey to return home safely after falling into the maze of space and time.
Seven Knights – Time Wanderer does not include a gacha system as players acquire in-game characters as they progress through the story.
Also Read: Apex Lagends Release Makes Switch Forced To Be Delayed, What About Steam Version?
You can download the game Seven Knights – Time Wanderer on the Nintendo eShop for USD 19.99 which is equivalent to Rp. 285 thousand.
As for the 'Special Edition' which includes the Costume Set Bundle Pack, it is also available at a price of USD 27.99 or Rp. 399 thousand.
PROMOTED CONTENT




Featured Videos