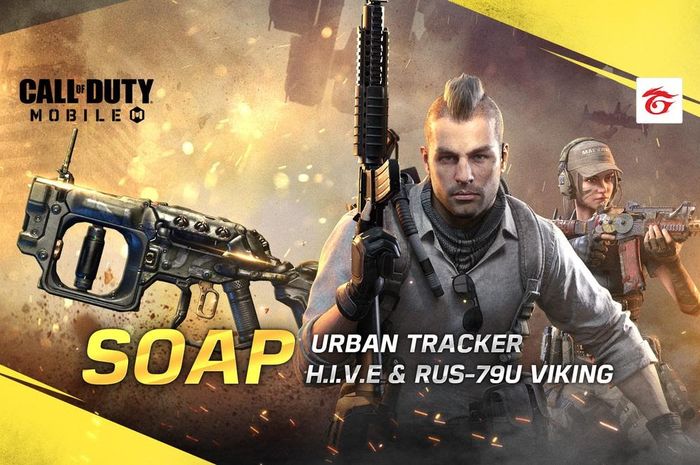 Garena Indonesia
Call of Duty Mobile Presents the Legendary Character Soap
GridGames.ID – Entering March, Call of Duty Mobile, an FPS game made by Garena Indonesia enters Season 4.
Season 4 begins with the presence of the legendary character John 'Soap' Mactavish.
These legendary characters can be obtained through the Battle Pass.
Not only that, in this update, Call of Duty Mobile also presents folder and scorestreak new ones that can be played since March 1, 2021.
Kuy, check out what's in the March 2021 Call of Duty Mobile update.
Also Read: There will be a new map in CODM Season 3, perfect for snipers!
1. New Character: Soap
For those who don't know, Soap is a legendary character in the Call of Duty series and is considered an expert in dismantling and small team tactics in Special Forces.
To get this character, you have to buy the Battle Pass Season 4.
Also Read: Call of Duty: Modern Warfare Season 2 Trailer Leaks, There's a New Map!
2. New Map: Cage and Nacht der Untoten
In this update, Garena Indonesia presents two new maps.
First there is Map Cage which is present in multiplayer and ranked mode.
This map is made for close combat so players can take advantage of the narrow streets to hide and then immediately attack enemy areas.
'Cage' is the first map that has never been released in the main Call of Duty series, you know!
The second is that the Nacht der Untoten map will be present in zombie mode.
This map contains areas that are more dangerous, as well as new improvements and mechanics.
Also Read: Update Call of Duty Mobile Brings Back Event Rapid Fire Mode
3. New Scorestreak: HIVE
Players must complete various in-game missions to unlock the new scorestreak, HIVE!
Use the HIVE scorestreak to launch mines.
When triggered, these mines will release a collection of nano drones that can defeat enemies in the vicinity of the mines.
Also Read: These are the 8 Teams that Advance to the Grand Final of the Call of Duty Indonesia Tournament
The three features presented above can add to your playing experience, you know!
Kuy, immediately open the Call of Duty Mobile game on your smartphone to enjoy this March update.
PROMOTED CONTENT




Featured Videos