Instagram/ikhsan_lemon
RRQ Hoshi wins MPL ID S6
GridGames.ID – The peak of the Mobile Legends Professional League Indonesia (MPL ID) Season 6 event finally ended tonight (18/10).
The battle between RRQ Hoshi and Alter Ego Esports who managed to qualify for the MPL ID S6 Grand Final was very tense.
The balance of the strength of the two teams was seen in the first and second games, where the first game was won by Alter Ego and the second game by RRQ Hoshi.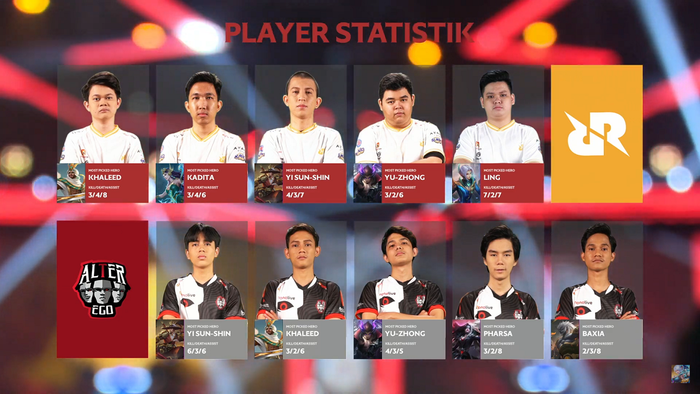 Youtube MLBB
Alter Ego vs RRQ Hoshi in Grand Final MPL ID S6
Also Read: Conquering Bigetron Alpha Without Reply, Alter Ego Passed to Grand Final MPL ID S6
Celiboy who used Yi Sun-shin's hero in the first game succeeded in becoming the core which brought his team to 1 victory point and managed to get Maniac.
With the help of the Barats used by LeoMurphy, RRQ Hoshi looks quite weak against Alter Ego.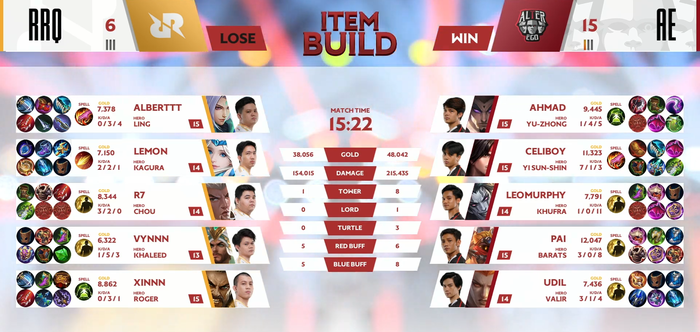 Youtube MLBB
Game 1 Alter Ego vs RRQ Hoshi
Also Read: RRQ Hoshi Successfully Secures One Slot in the MPL ID S6 Grand Final Round
Learning from the first game, Alberttt returned to action with the hero Lancelot who had deadly damage in the second game.
The back up from Barats and Khaleed used by R7 and Vynnn also managed to make the movement of RRQ Hoshi even better to play an objective game.
Until finally in just 10 minutes, RRQ Hoshi was able to balance the score to 1-1 over Alter Ego Esports.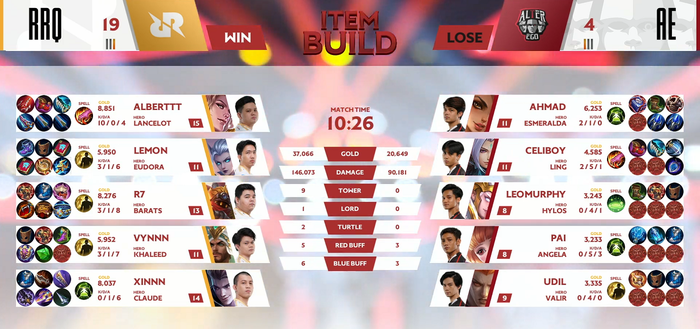 Youtube MLBB
Game 2 Alter Ego vs RRQ Hoshi
Also Read: ONIC Esports Eliminated Alter Ego in MPL ID S6's Lower Bracket
Still like the second game, game 3 also runs quite fast. In just 15 minutes, RRQ Hoshi again managed to conquer Alter Ego.
Alberttt became MVP with 9 kills and 7 assists without a single death.
If seen, Alter Ego is superior in terms of hero selection which is dominated by Fighter heroes who are able to withstand attack after attack.
Unlike RRQ Hoshi, who chooses many support heroes like Carmilla and Chang'e.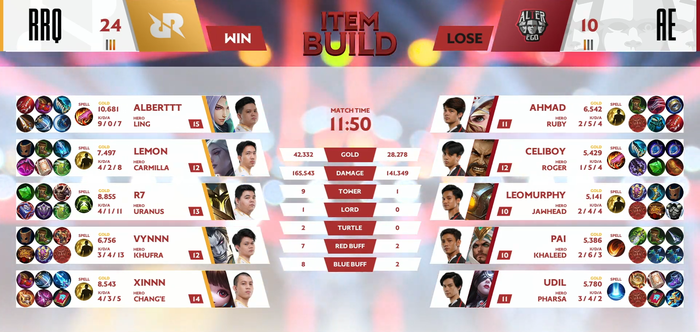 Youtube MLBB
Game 3 Alter Ego vs RRQ Hoshi
Also Read: The Royal Derby: RRQ Hoshi Defeats Onic Esports 2-1 in MPL ID S6 Playoffs
Fourth game is real! Alter Ego is back again. They controlled the game and managed to win it.
Ahmad alias Maungzy who uses Yu Zhong as an antagonist in the game.
He was also lined up as the fourth game MVP with a record of 16 kills, 6 assists and died 2 times.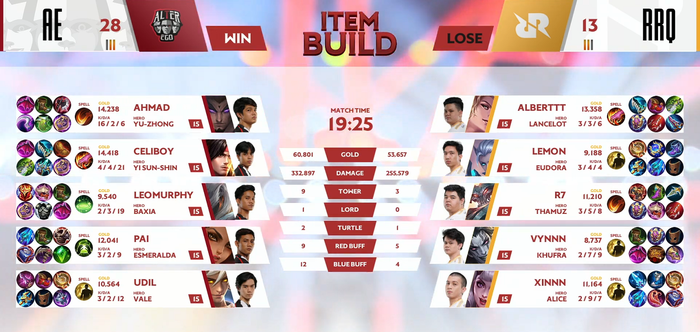 Youtube MLBB
Game 4 Alter Ego vs RRQ Hoshi
Also Read: MPL ID S6 Playoffs: BTR Alpha Easy 2-0 Win Over Genflix Aerowolf
The surprise came from RRQ Hoshi who chose to use 2 Marksman in the deciding game.
Not only buying and selling attacks displayed by each team, the defense of the two was also carried out as much as possible for the title of MPL ID S6 champion.
RRQ proves that they are still kings. In the fifth game which was also the decisive one, Alberttt and his friends ended Alter Ego's resistance with a total of 33-32 kill points.
The Alien baby who uses the Wanwan hero plays very well and becomes the MVP in the game.
Alberttt recorded 13 kills, 12 assists and suffered 2 deaths. This is proof that he is one of the best cores in MPL ID S6.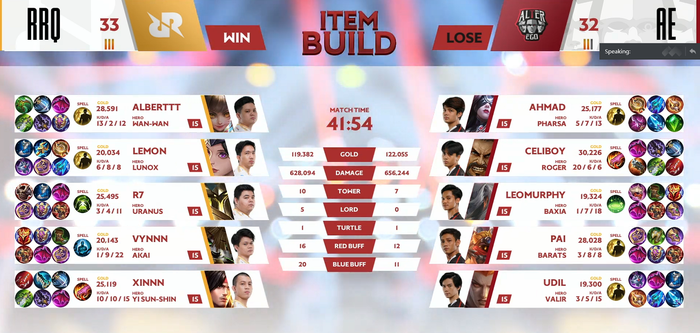 Youtube MLBB
Game 5 Alter Ego vs RRQ Hoshi
Also Read: Surprise Strategy Failed, EVOS Lost 2-1 to ONIC in MPL ID S6 Playoffs
With this victory, RRQ Hoshi managed to become the champion of MPL ID S6.
This is the third time they have won the national level Mobile Legends championship.
Previously, RRQ Hoshi won MPL ID Season 2 and Season 5.
Also Read: Non MPL Team, Siren Esports, Successfully Wins MDL Season 2 Champion
With the inclusion of Alberttt as a new roster in MPL ID this season, it looks like it gives a new color and adds to the strength of RRQ Hoshi.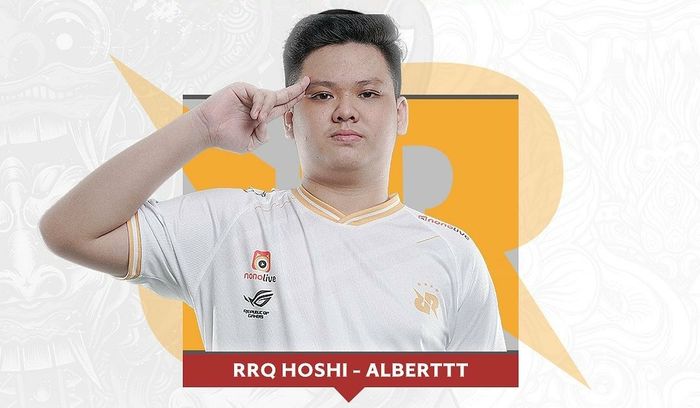 Instagram/mpl.id.official
RRQ Albertt
Alberttt previously played in the Mobile Legends Development League (MDL) Season 2 which was later withdrawn to MPL thanks to his ability as the best core.
Congratulations to RRQ Hoshi, Viva RRQ!
PROMOTED CONTENT




Featured Videos